Who We Are
inklings is a thoughtful Christian community in Castro Valley, California, under the direction of the Reverend Deborah Beach Giordano who is a duly ordained minister practicing within the New Methodist Conference.
Our Mission Statement
to create and maintain a venue for intelligent discussion, fearless inquiry, abundant joy and deep compassion within the context of the healing Gospel of Jesus Christ;
to assist each other in following the path of holy living in the midst of everyday life, seeking the Beloved in all places at all times;
to passionately follow Christ's mandate to live in peace and work for justice;
to bless the children, the weak, the poor, the ill and the aged — not by our words alone, but in our actions, as well (Matthew 7:24-27);
to honor and celebrate the sacrament of creation by environmentally responsible behavior and a commitment to protecting the health of our planet and all who dwell upon it;
to offer encouragement, kindness, hospitality, and hope as we strive to follow our Teacher in all we think and say and do: "encouraging one another in all good works" (Hebrews 10:24).
The Good News
Perhaps you have done things you ought not to have done. Perhaps you didn't do things you should have done. Or perhaps you have experienced rejection, condemnation, and hatred — even physical harm — at the hands of people who have claimed to "speak for God." In sadness, anger, regret, even shame you have wandered from place to place with nowhere to lay your head. Yet the voice of the One Who Loves Us Utterly will not be silenced: it whispers in the gentle breeze, proclaims itself in ocean waves, echoes through the concrete canyons of the city, and sings a lullaby in the nighttime stars.
You have not been forsaken: you are loved beyond telling and the Beloved searches for you "like a watchman in the night" (Psalm 127).
You are forgiven, loved, and free. There is no special "place" in which to meet the Ground of All Love. The Holy One is right where you are, right now. Be of good courage and abiding hope. Rejoice and be thankful. Come to God in prayer this very minute.
"Ask, and it will be given you; search, and you will find; knock, and the door will be opened for you. For everyone who asks receives, and everyone who searches finds, and for everyone who knocks, the door will be opened."
~ the Gospel according to Matthew 7:7-8

Interested? Curious?
If you are looking for a safe place to explore your walk of faith: to ask, discuss, and seek freely and fearlessly, we'd be delighted to hear from you!
All are welcome regardless of background, religious affiliation (or lack thereof), race, gender, marital status, sexual orientation or any other consideration that causes division in the Body of Christ.
Our Ministries
To share the blessings and comforts of Christ's gospel through: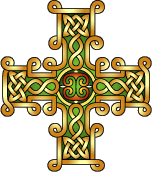 Spiritual Direction
Pastoral Counseling
Spiritual Abuse Recovery Counseling
Hospital and Nursing Home Visitation
House Blessings
Baptisms
Marriage Ceremonies - for all committed couples
Services of Healing and Restoration
Funerals and Memorial Services