The Lesson in the Garden
How lovely is our world, O Lord,
this glorious earth
on which we live!
How blessed are Your children, Lord,
to dwell in such a place!
Here, beneath our feet,
O Lord,
so often scorned,
ignored,
and — literally —
down-trodden,
the miracle of life begins.
Deep in the soil,
hidden from our sight
like pearls
within the sea,
seeds nestle
comfortably
until a signal
from within
inspires
an ecstatic
dance.
An exquisite
stretching,
upward
to a brightness
felt
though not yet seen,
reaching deep
within the fertile darkness
nourishing its desires,
sustaining its strength.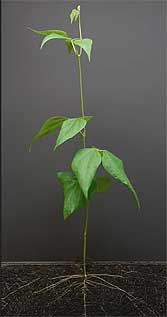 Swaying
to the rhythm of becoming
— the gentle pulse of life
all creation knows —
it makes its way
through a foreign landscape;
ever forward,
never fearful,
until at last
it gives forth
a green and verdant hallelujah.