Shepherds and Sheep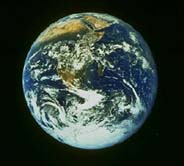 The image of Jesus as the good shepherd is a perennial favorite; it is comforting to think of our Lord as a fearless protector who will keep us safe. That there is One who seeks our greatest good, loving us unconditionally and caring for us tenderly brings peace to our souls and courage to our hearts.
With an Advocate and Friend like that, we have nothing to fear. Or, as another has written, "If God is for us, who can be against us?" (And who gives a hoot if they are?!)
At the same time this passage warns us to be wary, for we are at risk from great dangers in the world; there are bullies and bad guys, ravening wolves and would-be guides who do not have our best interests at heart. The Lord insists on the need for caution and discernment in the choices we make.
Then there is the lovely part about Jesus' work in gathering sheep from different pastures in other places. It tells me that one day there will be a single, redeemed world where all souls and all things will be well.
Baaaah!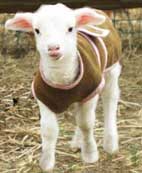 Of course it's also true that the concept of people-as-sheep is less than empowering. Being loved and cared for is wonderful, but no one wants to be thought of as timid, foolish, and easily-led.
Although Jesus promised that he was a good shepherd; he did not demand that we behave like sheep. Instead, he called us to follow him; not mindlessly, but wisely.
We are to make good use of our capacity for clear thinking, compassionate actions, and right use of our free will.
"Follow Me"
The Lord Christ is the Leader we can rely on, the wise Teacher whose instructions can be trusted, the Light that inspires and encourages us in dark times. Jesus showed us how to live: we are to do as He did — not in blind obedience, but with our eyes wide open to the world with all its faults and failings as well as its joys and delights.
Shepherds, Plural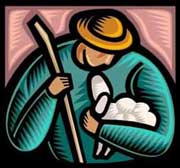 As followers of the Good Shepherd, we are both his well-beloved sheep and those he has called to be shepherds.
As followers of the Good Shepherd, we will seek out a friend who has wandered into a dark and lonely place, we will visit the one who has fallen ill, we will support the frail, and protect the weak. We will speak up for the vulnerable, stand against the bullies, and care for those in need.
As followers of the Good Shepherd, we will be good shepherds, too.
Virtual prayers and real-time blessings,
Deborah +
Suggested Spiritual Exercise
How have you been both a beloved sheep and a good shepherd?