John the Baptist's Proclamation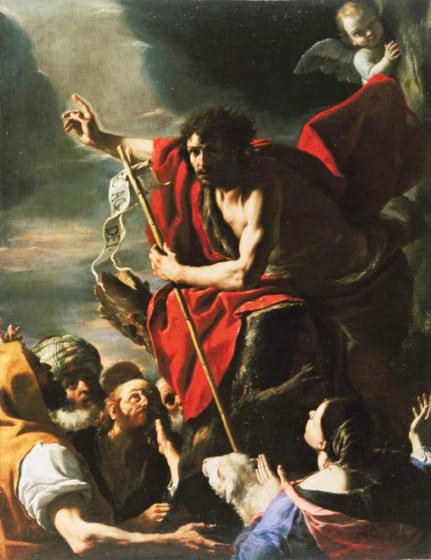 So, to clarify:
John said to the crowds that came out to be baptized by him, "You brood of vipers! Who warned you to flee from the wrath to come?"
"Even now the ax is lying at the root of the trees; every tree therefore that does not bear good fruit is cut down and thrown into the fire."
and
"One more powerful than I is coming … his winnowing fork in his hand, to gather the wheat into his granary; but the chaff he will burn with unquenchable fire."
The Gospel writer summarizes John's preaching with these words:
So, with many other exhortations, he proclaimed the good news to the people.
The good news?
The Good News?
If that's how John proclaimed "the good news" I'd hate to hear him preach bad news. Trees chopped down and burned, the Lord arriving with a pitchfork to toss the dried out, hollow shells of the unrighteous into a roaring inferno: a fierce, final judgment with no hint of mercy…. this is alarming, not uplifting news.
It's a very different kind of preaching from the gentle, non-confrontational sort we're accustomed to. Yet the people responded to John's fiery words earnestly, enthusiastically; they came to him by the hundreds to be baptized and to hear his teachings. The people took him seriously, because he took them seriously.
John spoke to the people as if they mattered, as if who they were and what they did made a difference. He spoke to all the people — rich, poor, soldier, servant, farmer, fisherman, young, old, weak, strong — to everybody as if their individual lives and souls were important to God.
That's the good news; that's the Gospel: God cares about who we are and how we live our lives. What we do — individually and particularly — matters ultimately. That's why John was so adamant, so ferocious about the things he said: it was important!
Get Out of the Way!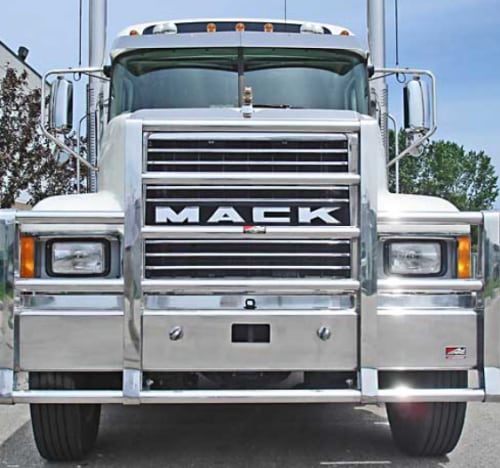 A venerable clergyman said to me many years ago: "If you see someone about to be hit by a truck, you're not going to mince words; you're going to shout, 'Get out of the way!'"
That's what John is doing: he's shouting, "Get out of the way!" Flee from the danger that is bearing down upon you like a runaway truck: the evil that crushes your soul and shatters your spirit, the wickedness that will destroy your life and the lives of those around you. Get out of the way!
Crowds of people were convinced by the Baptist's words. Rushing to the riverbank, plunging into the cool, refreshing water, symbolically washing away all the ugliness that had gone before, vowing to start anew; abandoning the dangerous path before the truck came barreling through. They were safe …. for now.
But a detour from our normal route is disorienting and troublesome. It's difficult to change. To travel on a changed path, in a different way demands our attention — and a lot of practice — before it becomes routine and comfortable. Otherwise, we'll go back to our old habits, following the same familiar route along the same familiar paths.
It's not enough to get out of harm's way — we must also get into Christ's Way. We must "turn away from evil and do what is good," as the saying goes.
"Everybody does it."
John is preaching — not sermonizing: the word has a sense of both urgency and intensity. He's exhorting, beseeching, emphatically insisting, giving the people a no-nonsense talking-to. In short, he's giving it all he's got to make them understand: lives hang in the balance; their lives.
Recall, too, that John is not addressing murderers, rapists, robbers, pillagers, or the like. These aren't big-time sinners he's talking to, but everyday folk going about their everyday lives, doing everyday things. And that's why he's so adamant: it's those "everyday sins" that can drag us down — the ones we are inclined to overlook because they seem so … well, so normal.
Think of the attitudes and behaviors that surround us: cynicism, sarcasm, meanness and mockery, shaming and shutting down, suspicion and hopelessness… unrelieved hard-heartedness; that's "normal" conduct in the culture in which we live. Since everybody does it, it's easy to accept, and easy to adopt.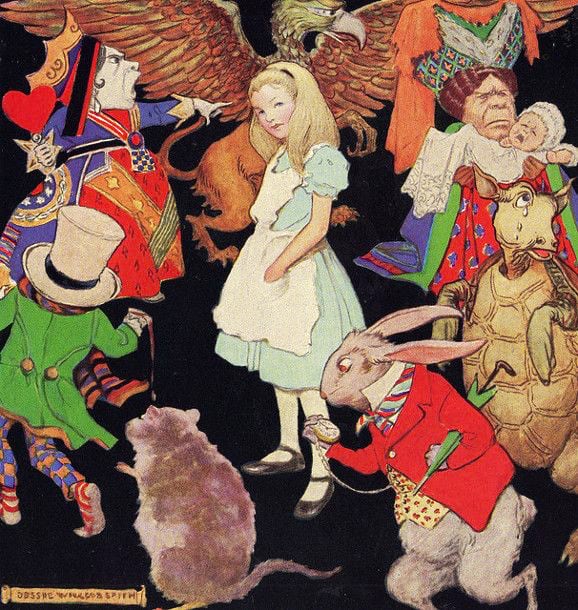 And down the rabbit hole we go; onto the highway of deadly sins.
That sounds a bit alarmist, doesn't it? After all, those may be wearying, unpleasant behaviors — but they aren't sins. The Bible doesn't say, "Thou shalt not be cynical." It's not as if anyone is dying because of what we do.
But I wonder.
As a friend said, "It's like I'm sick to my stomach, and I need to take a shower — to scrub the muck off of me." Sick and tired and dirty. If that's how our bodies feel, what are the conditions of "this world" doing to our souls?
Get out of the way!
Our Part in the Process
When we follow the ways of the World, we abandon the live-giving path of Christ. We tear down, rather than build up, contributing our energy to the destruction of kindness and compassion in humanity; becoming pall-bearers, rather than blessing-bearers. Our own souls and spirits sink into the depths: there is no health in us.
That is not how we're supposed to live! We are designed by God, and desired by God — who wants the very best for us, and wants the very best from us. We are to live in the Light and bring forth the Light. It is to shine from within us: a joy that lives in our hearts and pours out into our every interaction, through our every word, our every glance, our very way of being.
We are called to bless and heal — and we must begin with ourselves. Anger and good intentions don't mix; a chaotic spirit cannot bring peace; a soul divided against itself cannot stand.
The way of the world puts us in the path of sickness and sorrow, hopelessness and helplessness, despair and death.
Get out of the way!
For God so loved the world, that he gave his only begotten Son, that whosoever believes in him should not perish, but have everlasting life.
~ John 3:16,18
Christ's glorious, redeeming, healing love abound,
Deborah ✝
Suggested Spiritual Exercise
Take care of your health: emotional, physical, and — most of all — spiritual.
Step 1: Pray.