Amen!
"For the kingdom and the power and the glory are Yours forever."
Amen!
We have come to the end of this examination of the Lord's Prayer — the Christian creed that unifies every sect, every denomination, every church both great and small. We may squabble over confession and Communion, over saints and salvation, but on one topic we are agreed: this is the Lord's Prayer. It belongs to Him, and no human person or institution can control its use.
When we say these words, we stand together with the great "cloud of witnesses:" all who have called upon our Lord, praying this prayer, holding fast to his Promise. It reaches across time and distance, and continues the work of Jesus Christ; making us all one — surrounded by radiant hope and abiding faith.
This prayer is a free gift to all people — just as the Lord's healing ministry was offered freely: to sinner and saint, young and old, rich and poor, to those in radiant health and the sick and the dying. All are welcome to use it; all who recite it are encouraged by its blessings and challenged by its demands.
And we do — recite it, that is. We say it in all kinds of places at all sorts of events: at mealtimes and meetings and memorial services, at baptisms and house blessings, at confirmations and Holy Communion. Most of us say it during our morning prayers.
But I wonder.
If we genuinely took the Lord's Prayer to heart — would we repeat its phrases so glibly? Would they trip off our tongues so lightly if we truly believed these words and honestly committed ourselves to the life they proclaim?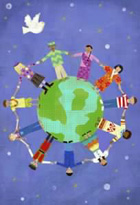 "Our Father": All people, everywhere, are our brothers and sisters. One God. One people. One family. Our family.
"Hallowed — sacred above all else — is Your Name": There is no authority greater than God, our Creator, the origin of all life, the source of our hope and joy. How awesome it is that the Eternal One loves us, and hears our prayers. And how foolish we are when we allow petty despots and their fear-filled chants to disturb us.
"Your kingdom come, your will be done, on earth as in heaven": We vow to work for God's kingdom. We are committing ourselves to work for the kind of world Jesus taught us about — where the hungry are fed, the sick are made well, where peace and justice prevail.
"Give us our daily bread": We have eaten today. Thanks to God. We have arisen from our beds and seen the bright sunshine, we have taken solace in the soft moonlight. We have been blessed a thousand-fold in the last day alone, and we are grateful. We are surrounded by signs of God's abundant grace and unlimited generosity. Perhaps some of it will rub off on us.

"Forgive us as we forgive ...": The awesome call to recognize the forgiveness we have received, and to embrace the new life we have been given. Will our humility and gratitude warm our hearts and bring about an echoing forgiveness toward others?
"Lead us not into temptation..." The world is filled with temptations, trials and troubles. We can choose to trust the Beloved, the Source of Light and Life, and live with courage. Or we can fall into despair and self pity. When we seek God's fingerprints in our lives and in our world, we will grow stronger in our faith and more hopeful in our outlook. Because...
"This is Your Kingdom, O Holy and Powerful One, and all glory and praise belongs to You. Amen." The prayer ends as it began: affirming the Beloved's authority and power over all things.
This world belongs to God: God designed it, God protects it, God sent Jesus Christ to restore it. We are forgiven, loved, and free.
An extraordinary prayer, made ordinary by frequent repetition.
May our hearts and minds be awakened. May we dare to say the Lord's Prayer as often as we've always done — with renewed understanding, firm courage and sincere belief.
Suggested Spiritual Exercise
Has the Lord's Prayer begun to sound different, or feel different to you over the past few weeks? Has any aspect of it begun to seem particularly meaningful? Has the prayer become harder to say, or easier? Do you look forward to saying it?