Don't Let Us Be Tempted
As we follow the words of the Lord's Prayer, we move from praise of the Creator to our promise to work for the unfolding of God's kingdom; next we seek the blessing of grateful hearts and forgiving spirits. Now we come to the really tricky bit: "Do not lead us into temptation."
This is a curious request, isn't it? It sounds as if it is God who ... well, tempts us. Or at least puts us in a position where we will be tempted. Like bringing a dieter to a candy store. Where there are free samples. Unlimited free samples.
It is hard to relate these words to the Loving One Jesus preached. Nobody wants to believe that God would put us in the line of fire. God is supposed to protect us; to lead us away from danger — like a good shepherd.
Jesus certainly knew what he was talking about. We are told that, after his baptism in the Jordan river, he "was led up by the Spirit into the wilderness to be tempted by the devil" (Mt 4:1). The writer of Mark goes so far as to say that "the Spirit drove Jesus into the wilderness" (Mark 1:12).
An Impossible Dream
In his compassion the Lord asks that his followers not have to endure such testing. But that is an impossible dream.
Family members caught in the web of addictions; friends who are sick; loved ones who suffer and die; a world at war; a culture of violence; children and elders abused; millions without health care, employment, food and shelter; the pollution of our air, water, and soil.
God. God. God. God. God.
It's too late to ask to be kept away from a place where we are tested: where our faith is challenged, where our beliefs are called into question. We're already here. On a daily basis.
The question is not: "How shall we avoid these things?" but "How can we face them?"
I think we can begin by taking to heart what this prayer affirms: that, whatever happens, God is involved. If we're in a place that is challenging; if we're facing a problem that seems insurmountable, a despair that seems overwhelming, a fear that seems all-consuming ... whatever and wherever we may be: we are not alone. If we're in it, God put us there — and God is with us there.
Looking for Fingerprints
The Beloved hasn't set us in this situation to torture or torment us, or to set the bar ever-higher to see if we will fail. God is at work, doing something amazing, although we may not see the long-term plan. Our presence, and our participation is part of the process.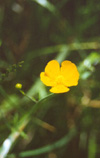 If you ask me for specifics, I cannot provide them. Yet if you look over your own life so far, I am certain that you'll find God's fingerprints. Times when you didn't think you could face another day, when you felt as if your efforts were futile, when it seemed that life was just as the pessimists have described it, "solitary, poor, nasty, brutish, and short." Then later — perhaps a day, a month, a year, a decade, half-a-lifetime — you discover that time was the beginning of a process of self-discovery, of growth, of change that led to something quite wonderful and unexpected.
A Long, Slow Process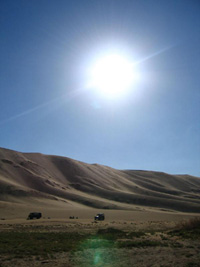 That's part of the message of the Hebrew testament. Those forty years when the people were out there, mucking about in the desert — it must have seemed like forever, it must have felt as if it were horrible and pointless ... as if they were lost and abandoned. But God was with them throughout, and they were in the process of becoming the People of Israel.
This isn't about: "Whatever doesn't kill you makes you stronger," — a phrase of desperate fatalism — it is about growing in our faith and our confidence in our God. Do we trust that "whether we live or die, we are the Lord's"? Do we believe that "God is with us"? Do we dare to live as Jesus has called us to do?
Are we willing to walk "by faith, not by sight" — taking each day at a time, each step at a time, trusting in God's love for us — in the midst of whatever we are facing?
Temptations can take a million different forms, our trials and tribulations are many. These are not here to test our ability to survive, or to call our redemption into doubt. These are holy opportunities: somehow, for some reason, God has placed us here — that we may help in the building up of the blessed Kingdom.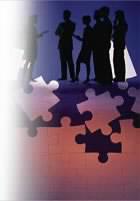 "Lead us not into temptation ..." ?
Too late! In our world, in our lives, we are already in the midst of it.
In these times of temptation, in this world of challenges, may we come to believe — with all our hearts and souls and minds and strength — that the Beloved, the Creator of heaven and earth, will make all things work together for good. And let us give thanks that we have been invited to be a part of the process!
This Week's Suggested Spiritual Exercise:
How has God worked in your life, bringing what seemed bad, sad, or impossible into something wonderful? How are you being called right now into the work of the Kingdom?