God's Kingdom
Last week we began at the beginning of the Lord's Prayer — with God: the Foundation and Source of our life. In all he did and everything he said, Jesus taught us that the Holy One is on our side: working with us, loving us, seeking to restore us and our world to health and happiness. Therefore, we should pray with courage and confidence.
The next line of the Lord's Prayer is neither a plea nor praise, but a statement: "Your kingdom come, Your will be done." Because the first English translators had an ear for poetry, there is a cadence to the phrase; the words almost rhyme: "your kingdom come, your will be done..." It might also be said as, "You are sovereign over all the world, every ruler, every nation, and all people shall obey You."
Jesus isn't asking for this to happen, he is declaring the way things are; and the way we are to live. The Lord's prayer doesn't say that one fine day this world will become God's kingdom; it is a statement of what should be obvious to us: this is already God's world.
"The kingdom of God is here in the midst of you" ~ Luke 17:21.
All that is missing is for us to realize it, and to act accordingly.
That's where the next part of the phrase comes in: "may Your will be done on earth."
It's About Us
When we pray that God's will be done — there is only one person we can speak for; only one whose "doings" we can guarantee. We can only speak for ourselves.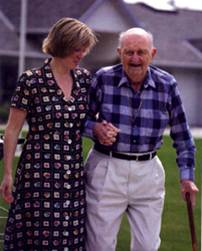 This isn't a prayer about other people, but about us.
It isn't a dream of the future, but a plan for today.
The Lord's Prayer is beginning to sound pretty scary, isn't it? It turns out that we're not dumping a Wish List for the future into the Holy One's lap but committing ourselves to doing God's will. Right here. Right now.
This is our vow that we're on God's side — just as God is on ours. We are promising to do our part: following the teachings of Jesus Christ. We are to be Light Bearers who bring mercy, kindness, and embodied compassion into our world.
We are to share in the holy work of feeding the hungry, sheltering the homeless, caring for the aged and the ill, visiting the lonely and imprisoned, demanding justice, working for peace, protecting the earth. We are to love God and love our neighbors — all of our neighbors — as we love ourselves.

Citizens of Heaven
The Lord's prayer reminds us that we are not victims of "this world," but citizens of heaven, who have been called to preach the good news — using words, if necessary. There is no god but God, there is no government or legislation that can overrule Christ's Law of Love.

As the old hymn gives it, "This is my Father's world," — yet we rarely behave as though we believe it. We treat the notion of "the kingdom of God" as a far-distant, largely unachievable goal: "pie in the sky, by and by," when all that is necessary is that we live as though the truth were true.
When we pray as Jesus taught us, we are confirming our participation in the work of making it "on earth as it is in heaven." We have the ability — the responsibility — to care for the Beloved's holy creation tenderly.
When we pray the Lord's prayer, we acknowledge that, now and eternally, this is God's kingdom. Though we have been invited to be coworkers, the final outcome is not up to us. It has already been decided, a long time ago. Before the world came into being.
What has come into being in him was life, and the life was the light of all people. The light shines in the darkness, and the darkness did not overcome it.
~ The Gospel according to John 1:4-5
Ultimately, Light and Life shall be victorious. Jesus' prayer affirms that God is in charge; it reminds us that we need not be afraid of any earthly thing. Jesus' name reminds us of the Easter promise: through the Lord Christ's grace and mercy, we shall see the Kingdom which has no end.
This Week's Suggested Spiritual Exercise:
What in our world is not in keeping with Jesus' teachings about the Kingdom of God? Which aspect seems most pressing to you? Justice? Peace? Care for the poor or the sick? Stewardship of our resources? Protection of our furred, feathered and finned friends? What two things can you do to make a difference? (Hint: one of these things is prayer!)